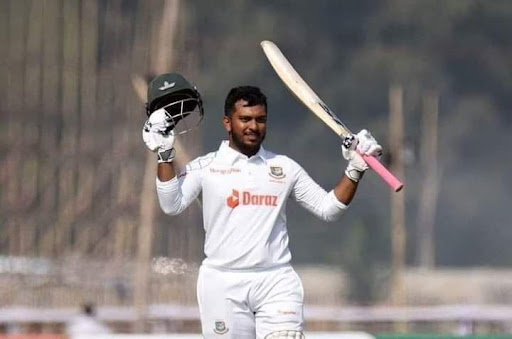 Zakir made a record by scoring a century in his debut Test
Zakir made a record by scoring a century in his debut Test
16 February 2023  Authorbaji55
Tamim Iqbal was not included in the squad for the first match of the Test series against India. Reasons for not being a dashing opener, injuries. And Zakir Hasan's forehead opened with that. Like Tamim, this young left-handed batsman also made his debut in the Chittagong Test. Zakir made his debut match colorful in white clothes. He also celebrated the first century of his Test career.

Zakir gave chances to bat in the first innings in white. He played 45 balls, from which he scored 20 runs with the bat. However, he could not make the innings longer. However, this new tiger returned hungry in the second innings. Hankal Shatak came down to open at the moment when the team needed it. His run, 100, before being caught by Virat Kohli off Ravichandran Ashwin.

Zakir not only made his debut memorable in this match, but also wrote his name in several records. He became the first Bangladeshi opener to score a century in his debut Test. Besides, Zakir is the fourth Bangladeshi to score a century on debut. Earlier, Aminul Islam Bulbul, Mohammad Ashraful and Abul Hasan Raju scored centuries in their Test debut.

On the occasion of this century, Zakir crossed the borders of the country and wrote a record in the international arena. Bangladeshi Tarun is the second batsman to score a century in the fourth innings of his debut Test. This feat was previously achieved by Len Baichan. This former West Indies batsman played an innings of 105 runs against Pakistan in the Karachi Test in 1975.

Of course, Zakir's walk in the international arena is not new. He made his T20 debut in 2019. Although he did not have the opportunity to play many matches in white ball cricket. That's why he didn't see success. He took advantage of the first opportunity in red ball cricket. If this consistency can be maintained, Zakir can be a beacon of hope in times of crisis.