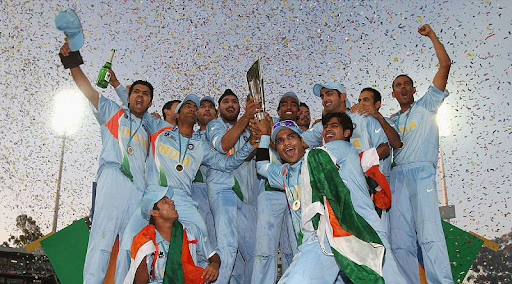 Team India to create magic of 2007 in the T20 World Cup 2021
Team India to create magic of 2007 in the T20 World Cup 2021
October 14, 2021  Authorbaji55
ICC T20 World Cup draw was made public. The defending champions West Indies and Australia, South Africa, and England are in Group 1 of the Super 12 round. In the meanwhile, India is in Group 2 with Pakistan, New Zealand, and Afghanistan.
From the qualifying round, two more teams will enter both groups in the Super 12 stage. The eight teams competing for the four remaining Super 12 slots are Sri Lanka, Bangladesh, Ireland, Namibia, Netherlands, Papua New Guinea, ScotlandOman, and Oman.
Many supporters predict India and England to win the worldwide event in the United Arab Emirates and Oman. Some predict the West Indies will become the first team to win the event three times.
Team India hasn't won the T20 World Cup since MS Dhoni, and his young guys made history in the maiden tournament in 2007. In 2014, they came close but fell short when it came to Sri Lanka.
In the last T20 World Cup held in India in 2016, eventual champions West Indies knocked India out in the semi-finals due to their batting prowess. India has been a favourite in practically every edition but has never gone all the way.
Their quest for an ICC trophy continues after a semi-final exit in the 2019 50-over World Cup and a devastating defeat in the World Test Championship (WTC) final. Is 2021 the year India finally breaks their title jinx?
As previously stated, India, England, and the West Indies are the top three challengers for the ICC T20 World Cup crown. In the competition's knockout stage, India is most likely to meet England or a Caribbean team.
The Men in Blue will have the upper hand because Indian players have played a lot of cricket in the UAE during the last two years. KL Rahul, Shikhar Dhawan, Rohit Sharma, Hardik Pandya, Jasprit Bumrah, Yuzvendra Chahal, Shreyas Iyer, and Virat Kohli all had outstanding performances at the IPL 2020 in UAE.
Virat Kohli and his side are expected to win the ICC T20 World Cup in the Middle East, ending a 14-year wait for the title.
T20 World Cup Round 1 Schedule

Date

Match

Local Time

Venue

17-Oct-21

Oman vs Papua New Guinea

14:00

Oman

Bangladesh vs Scotland

18:00

Oman

18-Oct-21

Ireland Vs Netherlands

14:00

Abu Dhabi

Sri Lanka vs Namibia

18:00

Abu Dhabi

19-Oct-21

Scotland Vs Papua New Guinea

14:00

Abu Dhabi

Oman vs Bangladesh

18:00

Abu Dhabi

20-Oct-21

Namibia vs Netherlands

14:00

Abu Dhabi

Sri Lanka vs Ireland

18:00

Abu Dhabi

21-Oct-21

Bangladesh vs Papua New Guinea

14:00

Abu Dhabi

Oman vs Scotland

18:00

Abu Dhabi

22-Oct-21

Namibia vs Ireland

14:00

Abu Dhabi

Sri Lanka Vs Netherlands

18:00

Abu Dhabi
T20 World Cup Super 12 – Group 1 Schedule

Date

Match

Time

Venue

23-Oct-21

Australia vs South Africa

14:00

Abu Dhabi

England vs West Indies

18:00

Dubai

24-Oct-21

A1 vs B2

14:00

Sharjah

26-Oct-21

South Africa vs West Indies

14:00

Dubai

27-Oct-21

England vs B2

14:00

Abu Dhabi

28-Oct-21

Australia vs A1

18:00

Dubai

29-Oct-21

West Indies vs B2

14:00

Sharjah

30-Oct-21

South Africa vs A1

14:00

Sharjah

England vs Australia

18:00

Dubai

01-Nov-21

England vs A1

18:00

Sharjah

02-Nov-21

South Africa vs B2

14:00

Abu Dhabi

04-Nov-21

Australia vs B2

14:00

Dubai

West Indies vs A1

18:00

Abu Dhabi

06-Nov-21

Australia vs West Indies

14:00

Abu Dhabi

England vs South Africa

18:00

Sharjah
T20 World Cup Super 12 – Group 2 Schedule

Date

Match

Time

Venue

24-Oct-21

India vs Pakistan

18:00

Dubai

25-Oct-21

Afghanistan vs B1

18:00

Sharjah

26-Oct-21

Pakistan vs New Zealand

18:00

Sharjah

27-Oct-21

B1 vs A2

18:00

Abu Dhabi

29-Oct-21

Afghanistan vs Pakistan

18:00

Dubai

31-Oct-21

Afghanistan vs A2

14:00

Abu Dhabi

India vs New Zealand

18:00

Dubai

02-Nov-21

Pakistan vs A2

18:00

Abu Dhabi

03-Nov-21

New Zealand vs B1

14:00

Dubai

India vs Afghanistan

18:00

Abu Dhabi

05-Nov-21

New Zealand vsA2

14:00

Sharjah

India vs B1

18:00

Dubai

07-Nov-21

New Zealand vs Afghanistan

14:00

Abu Dhabi

Pakistan vs B1

18:00

Sharjah

08-Nov-21

India vs A2

18:00

Dubai
T20 World Cup Semi-Finals, Finals Schedule

Date

Match

Time

Venue

10-Nov-21

Semi-Finals – 1

18:00

Abu Dhabi

11-Nov-21

Semi-Finals – 2

18:00

Dubai

14-Nov-21

Finals

18:00

Dubai